Read the first post in the series.
"Depression is a prison where you are both the suffering prisoner and the cruel jailer."
- Dorothy Rowe
Yep, it's been a while since I've tackled this. With good reason, too. We're now approaching
Dead Things
, one of the central episodes of Buffy's depression arc. It's something that requires a lot of extensive thought and analysis and, well, it takes me a while to get up the energy. :) I imagine there'll be a similar pause before
Normal Again
.
But we're here now, coming off the heels of
Doublemeat Palace
. Buffy's using Spike as something of a coping mechanism in a self-harm metaphor. Spike represents primarily Death, the bliss of heaven that she lost when Willow brought her back. In the meantime, Dawn is being ignored. Dawn, of course, being Buffy's reason for living this season, shunted to the side and largely forgotten. Buffy's deep in the midst of her tangled affair with Spike and, not coincidentally, in the darkest part of her depression.
For the uninitiated, this is a meta series solely devoted to Buffy's depression in S6. How it manifests, how the show portrays it, how people react to it. It's probably helpful to
start at the beginning
as I'm now building heavily on what had been established previously. All entries are listed under the
"buffy came back wrong"
tag.
If you're feeling adventurous, you can jump right in with this section. But don't comment to me that you're confused if you haven't read the earlier entries. ;)
Speaking of comments, there's usually some fantastic ones on these entries as people explain their own perceptions, alternate interpretations, or just point out stuff I missed. Read them!
And onward now, gentle readers.
Dead Things aka I burned my safe place down...
Right off the bat, let me refer you to my
older post on the Trio and Buffy's depression
. That meta helps to explore the Trio's part in this episode. It's no coincidence that Buffy hits her low point just when the Trio kidnaps and attempts to rape a woman (only to kill her while she's trying to escape).
This episode delves deeply into the Buffy/Spike relationship of the season. And there's a lot that goes into it. This meta isn't meant to cover
everything
that's going on here. As always, I'm only focusing on the parts that relate to Buffy's depression. A full meta work-up on this episode would be
awesome
very long.
We start off the episode in Spike's crypt. Specifically, the underground part of it. Buffy and Spike are just finishing up a bit of sexxing.
Buffy: (panting) Uh ... we missed the bed again.

Spike: (looks toward the bed) Lucky for the bed.
Remember this. It'll be important later. They missed the bed. The bed is a comfortable piece of furniture. It's meant to be familiar, comforting, safe. But Buffy and Spike aren't on it. They keep missing it.
Buffy and Spike then engage in a bit of casual conversation. Previously, we'd seen Buffy having a push-pull relationship with Spike. She was aware of what he represented (the enemy) and she felt guilt for sleeping with him. In fact, she was adamant in her resolve to stay away from him. However, with this conversation, we see that Buffy's fallen into the sex as a habit. It's now "normal" to her. So normal, she can have completely casual small talk afterward. Buffy had been resisting depression's pull, trying to keep herself attached to the world. We see with this, though, that Buffy has found herself completely enveloped by depression. By the comfort of death that Spike represents this season.
Buffy: You know, this place is okay for a hole in the ground. You fixed it up.
Dirt metaphors again. The "hole in the ground" brings images of Buffy's grave from the beginning of the season. Buffy's
back
in that hole, and, what's more, it's "okay". It's fixed up. She likes it.
What does her grave represent? If we go way back to the beginning of this season, we recall that being dead was an escape for her. It was a release from her duties as a Slayer. It was a release from her duties as a sister and caretaker to Dawn. It was also a release from being responsible for her friends. We'll see all of this addressed in this episode. Throughout most of this season so far, Buffy has been struggling to
get out
of her metaphorical grave. However, the temptation that Spike offers as a self-harming-like coping mechanism becomes too much to resist after Giles abandons her. Within a few episodes, she's fully back in her grave and setting up home.
Which would be fine if she were dead. But she's alive. And her responsibilities won't let her rest so easily.
Back to the episode, though! Spike notices that they're, you know,
talking
.
Spike: Are we having a conversation?

Buffy: What? No! No. (pause) Maybe.

Spike: Hmm.

Buffy: What?

Spike: Well, isn't this usually the part where you ... kick me in the head and run out, virtue fluttering?

Buffy: That's the plan ... (embarrassed) ...soon as my legs start working.
Spike's often the one trying to talk about "the relationship". Buffy, however, prefers to get her use from Spike and go on. Thinking about what she's doing, what implications it may have, is not on the agenda.
Let's go with the self-harm metaphor. When I did the cutting thing, I very deliberately used very unsanitary implements and I did
not
treat the wound properly. Doing so would be an acknowledgment of what I was doing, and I didn't want to think about it. I just wanted to do it, get the relief it offered, and forget about it. Thinking about it meant I had to process that fact that I was...you know...cutting myself. I had to think about what this meant about my mental state. I had to think about what other people might think if they saw the cuts. Those were uncomfortable thoughts. The less time spent in their vicinity, the better.
Likewise, Buffy doesn't want to analyze what she has with Spike. She doesn't want to consider what it might be doing
to
Spike. She doesn't want to consider what it means for her, a Slayer, to be having sex with a soulless vampire.
We see another example, then, of Spike praising Buffy's ability to hurt him (and herself).
Spike: I was just trying to keep up. The things you do ... (Buffy looks embarrassed. Spike smirks) ...the way you make it hurt in all the wrong places. I've never been with such an animal.

Buffy: I'm not an animal.

Spike: You wanna see the bite marks?

Buffy: You know, it's late, I-I should ... get home before Dawn goes to sleep.
Again, look at what Spike's calling attention to. It's that stuff that she doesn't want to think about. It's like someone pointing at a bleeding cut and saying, "Wow, you're really good at slashing your arm."
So Buffy bails. Her comfortable escape has become uncomfortable. She wants to try to get back to Dawn (her reason for living) before Dawn goes to sleep.
Buffy and Spike have another exchange right before the end of the scene, and, while it's fascinating, it's a bit outside the bounds of this post. To summarize, Spike is trying to get Buffy to define the relationship, which, as mentioned, is the last thing Buffy wants to do. The question of trust comes up. There's handcuffs. Seriously, someone should do a meta on it. :)
We then get a brief scene with the Trio, who are now holed up in a basement. Hmmm...underground, much like Buffy is.
Anyway, they've engineered a doodad that will, apparently, make any woman their "willing sex slave" (echoes Spike's line in OMWF about being Buffy's "willing slave").
Good god, I just can't resist commenting on the awesome parallels in this episode, despite the fact that they have nothing to do with Buffy's depression. *loves this episode*
Moving on to the Doublemeat Palace where Buffy meets with Tara.
Buffy's concerned with the whole "coming back wrong" thing. She wants Tara to look into the spell that was used to bring her back.
The natural question is: why now? Why not when Spike first demonstrated that his chip didn't work on her?
To get the answer, we have to look back at the first scene. Spike's beginning to question her about what they're doing. Her blissful escape is trying to get her to look at what's going on. Immediately after
Smashed
, Spike was content to take what he was given. Hell, he was arrogant about what he was given. Now, though, he's trying to get some sort of confession of a relationship out of her. This makes her coping mechanism not as cope-y anymore.
It's like, say that you're self-harming. However, for some bizarre reason, you only have one knife (just go with it). At first, it's fine. The knife does its thing. You bleed. You go on. However, after a time, the blade dulls, and it takes more work to get the satisfaction you're needing. This necessarily draws your attention to
what
you're doing. Suddenly, the cutting isn't what it used to be. And since your knife is getting dull anyway, you might as well ask someone if they, maybe, know something about cutting (just hypothetically, of course). After all, if you know something about
why
you're doing it, then you can make a decision whether to keep doing it or not. If you're just innately prone to self-harming, then why give it up? But if you're not. If you're "normal", then why on earth are you cutting yourself?
These are thoughts that Buffy's been trying to avoid, but Spike's becoming a dull blade. She can't avoid it anymore. She's hoping to get justification for what she's doing from Tara. If she's "wrong", then it follows that she'd use Spike for sex.
In the episode, Warren then goes out and hypnotizes Katrina into going back with him. Things are not good.
But then Buffy gets home to find her friends (and Dawn) dancing. And while her friends are wanting to go to the Bronze, Buffy wants to stay home with Dawn.
Yes, she is actually starting to crave
life
again. Earlier in the season, she'd been stuck with Dawn, but craving death. Now we see the reverse. It's because her coping mechanism is falling apart. She's grasping for her reason to live again, but she's just flailing blindly.
Dawn: I'm ... sleeping over at Janice's?

Buffy: And I'm falling for that again because of the surprise lobotomy?

Willow: It's okay, I checked it out. Janice's mom is picking her up.

Buffy: Oh.

Dawn: I didn't think you'd care. You're never home, so...

Buffy: I know. I'm sorry. You know, but I, I'm here now. All visible and everything. Couldn't you just stay at Janice's another night?

Dawn: Her mom's cooking Mexican. She's gonna teach me how to make real tortillas. (softly) Not like I knew you'd be around.
However, just when Buffy's trying to get a grasp on life again, life has given up and started to do its own thing. Buffy's fast running out of places to go to for comfort.
It's after this that Buffy decides to go out with her friends.
But first we take a short stop at Warren and the others and their murder of Katrina. Again, I refer you to the
meta I wrote earlier
.
So let's move on to that Bronze balcony scene. Well, first a short stop and Willow and Buffy having a little chat.
Willow: We're not going to have to do that at the wedding, are we? 'Cause there's this last thread of dignity I've been desperately clinging to.

Buffy: You're still doing okay, right?

Willow: Yeah. You know. Some days are harder than the really hard days. It's easier like this, though, when I'm not alone.

Buffy: (contrite) I'm sorry I haven't been around that much.

Willow: No, that's not -- it's okay. We know you've been all tied up.
I just want to point out that even now, in the deepest depths of her depression, Buffy is asking how Willow is doing.
When Xander and Anya stop by to invite them to dance, Buffy bows out and wanders up to the balcony.
This is an interesting scene. Buffy's purposely isolating herself physically, reflecting the emotional isolation she's felt all season. She places herself watching over them, much like she often ends up doing in a Slaying capacity. And it's here where Spike approaches.
This is Spike very much in the role of the metaphor now. He is Death. He holds the power here in a way we haven't really seen him do so before. Unlike previous instances we've seen, he acts as the initiator. Buffy puts up a cursory protest but then gives in.
Spike: You see ... you try to be with them...but you always end up in the dark ... (whispering in her ear) ...with me. What would they think of you ... if they found out ... all the things you've done? If they knew ... who you really were.
It's almost like Spike's verbalizing her thoughts. But there's more going on here. Remember back to
Gone
when invisible!Buffy was playing with Spike while Xander watched, oblivious. It's a commentary on the events of the season, in some ways. Buffy floundering for help and nobody noticing. She's communing with Death and her friends are down below, dancing.
In some ways, the balcony scene kinda sums up Buffy's whole arc in S6. Out where her friends could see her (but won't notice), Death won't let her escape. Even though she initially resists, she eventually welcomes it.
The next scene to take a look at is to Bush's "Out of This World", which plays over images of the Buffy!door!Spike sex.
The scene illustrates the connection Buffy and Spike have to each other, each being able to sense the other through the door to Spike's crypt. There's a lot more to be said about this scene. Sadly, it's not relevant to this meta (Yes, shake your fist).
But it's okay, because now we're getting to the good stuff. Well, the other stuff is good, too. But anyway...
Buffy makes a concerted effort to
not
see Spike. And she succeeds at first. Things get a little time-screwy then as she hears "Katrina" scream and goes to help her. Various shots are seen of Buffy and Spike fighting, Buffy punching Spike, Spike telling her that he could sense her, and then, finally, Buffy hitting "Katrina" and sending her down a hill. At the end, Buffy believes she killed Katrina.
Okay, let's take a look at this bad boy. With her affair with Spike, Buffy had given a big "fuck you" to her duty as a Slayer. After all, it was that duty that led to her death in S5. It was also that duty that dragged her out of heaven this season. She resents it. When Spike tells her she came back wrong, she takes it as a pass to release her resentment towards her duty.
We're going to be working through this by Buffy's thought processes, so we're assuming that she
actually
killed Katrina. Remember what the different characters represent. Spike = Death/Soulless Vampire. The Trio = Buffy's depression.
Buffy managed to avoid from running to Spike by getting the bat signal in the form of Katrina's screams. It's her duty intruding and taking her away from her coping mechanism. Previously this season, things had been the other way around. However, things with Spike have gotten to the point where she's casting about, looking for ways to avoid
him
.
However, as she's trying to rescue Katrina, time goes wonky thanks to the Trio. Again, we have Buffy's depression interfering with her effectiveness as a Slayer. We saw something similar in
Life Serial
. What's more, we see Spike alternately helping her (Death always fights alongside the Slayer) and yelling at her for avoiding him.
This bit of time-wonkiness leads to a dead body, though. At the end, Buffy can only conclude that she killed Katrina. Her depression, her affair with Spike coupled to interfere with her Slaying to a fatal extent.
Spike gets Buffy home to bed. Then we get to a deliciously meta-full dream sequence.
There's oodles of different ways to read the dream. I'm gonna lay out the one consistent with this meta's goals.
It is
incredibly
significant that the dream opens with Buffy in bed. Remember back to the beginning of the episode? How Buffy and Spike always miss the bed? She didn't now. Buffy's in her bed, out of the ground, in her place of comfort, and Spike comes to
her
. It's a fantasy. Specifically, it's the hope she had when she went to Spike to help her with her depression. It's how she
wanted
her coping mechanism to work. He would elevate to her level (instead of her going down to his).
However, we get the reality in the next cut when we see Buffy and Spike in his crypt. Spike's handcuffed and Buffy's...doing that sex thing. Buffy's in control, Spike trusting her completely (this is tying into some Katrina-Spike parallels that the episode makes. Unfortunately, that is outside the bounds of the meta, so I'm only gonna mention it in passing). Compare this to the balcony scene we saw earlier with Death having the power. The dream reveals Buffy's perception (or revelation) of her own control of the relationship.
We see a brief shot of Buffy punching someone. This is representative of her Slaying.
Then Buffy's in the forest, straddling Katrina - whose hands are handcuffed. She asks Katrina: "Do you trust me?"
Buffy's the Slayer. She's supposed to be trusted to protect people from demons and vampires. Katrina is helpless at this point, her hands bound and she's completely at Buffy's mercy. Much like any random victim Buffy might stumble upon during patrol. It's all up to Buffy to save them. If Buffy walks away, the vampires will likely kill whoever-it-is. That's the situation Buffy thought Katrina was in.
Katrina smiles and moans right then.
There's a shot of Buffy and Spike under the rug in Spike's crypt. Again, Buffy's below ground, caught up with Death, juxtaposed with the Katrina-as-victim shots.
In the next shot, Buffy
punches
Katrina.
Think of it like a narrative here. We see Buffy come across a victim in the handcuffed-Katrina scene. She asks if Katrina trusts her. This carries the implication that we'll next be seeing Buffy save Katrina. However, instead, we get a shot of Buffy fucking Spike. Buffy's
choosing
to neglect her calling in order to get groiny with Death. She's so caught up in her depression, she's turning her back on potential victims. This acts, in the dream, as a literal punch to Katrina.
The next shot has Buffy straddling a sleeping Spike on his bed, and she's lifting a stake as if to dust him. She brings the stake down.
It's in that shot that the dream shifts a little to address the repercussions of the Buffy/Spike affair on
Spike
. Remember that that's something Buffy had been determined
not
to think about. The scene shows Spike in a relatively helpless state (naked, asleep, unthreatening). However, she's staking him. The next shot reveals that it's Katrina who Buffy staked. Again, playing to the Katrina-Spike parallel. Katrina was made into the Trio's sex slave; Spike became a willing slave to Buffy. And Katrina was literally
killed
as a result of it. The dream acknowledges Buffy's knowledge of the effect that the affair is having on Spike.
What's more, it shows Buffy being the one who deliberately kills Katrina by her own hand. We're going back to Buffy neglecting her duty, and how that means that people will die. An alternate read of the staking Spike/Katrina cuts could be a more narrative take, metaphorically showing Buffy trying to turn away from Spike (as she did during the song montage). This is represented as Buffy
staking
Spike. However, as she does this, she ends up killing Katrina. This makes the dream more of a replay of what had just happened.
Which one's right? Both of them, and any more you care to throw out. The first interpretation will be important at the end of the episode, though.
The final shot of the dream, again, makes explicit the Katrina-Spike parallel. When Katrina's eyes open, they're blue...like Spike's.
Buffy wakes up then, and she's, needless to say, a bit perturbed by the dream. She immediately goes to Dawn.
In this episode, we've seen Buffy quickly growing discouraged with her options. Spike is no longer the safe escape he used to be. When she tried to turn to Dawn, Dawn had moved on. When she went out with her friends, she still felt isolated from them. And her attempt at Slaying ended in disaster. She has no recourse. Nothing else to try.
So she takes the new out presented to her: jail. She's decided to go for the final escape. First she has to say good-bye to Dawn, though.
Buffy: There's something I have to do. I have to tell what I did. I have to go to the police.

Dawn: The police?

Buffy: Dawnie, I have to.
That is, verbatim, what Buffy told her up on the tower before she jumped in
The Gift
. This is another sacrifice for Buffy.
Dawn: (upset) They'll take you away. Won't they.

Buffy: I'm sorry. (looks down)

Dawn: No, you're not. (Buffy looking surprised) You're never here. You can't even stand to be around me.

Buffy: That is not true.

Dawn: (almost crying) You don't want to be here with me. You didn't want to come back. I know that. You were happier where you were. (crying) You want to go away again.

Buffy: Dawn...

Dawn: Then go! You're not really here anyway.
Remember what Dawn represents. Dawn
is
Buffy's reason for living. She's gonna have to embrace it by the end of the season (and she does). At this point, though, Dawn's actively rejecting Buffy. Again, Buffy doesn't have much in the way of options.
Just as Buffy's about to turn herself in, Spike interrupts her. While Spike may represent Death, he's also his own character. And he doesn't want Buffy going off to just any metaphorical death. He wants her with
him
.
There's a confrontation, of course. Buffy's insistent that she turn herself in. Spike's insistent that she doesn't. Spike's insistent that he loves her. Buffy's insistent that he doesn't.
Actually, let's pause. What's up with that?
Buffy: I have to do this. Just let me go.

Spike: I can't. I love you.

Buffy: (upset) No, you don't.

Spike: (harshly) You think I haven't tried not to?

Buffy: Try harder.
Why is it so important to Buffy that Spike
not
love her? Well, there's the obvious self-loathing that Buffy has going on right now. But there's something more, and it connects up to that Spike-Katrina parallel.
If Spike truly loves her, then Buffy is doing a pretty damn horrible thing by taking advantage of him and using him for sex. It's easier for her if he
doesn't
love her. If it's all sexual and he's getting exactly what he wants from her. If he isn't hoping for more. Being in love with her makes him the sleeping Spike in her dream. She
has
to reject this.
The argument continues. Remember at the beginning of the season that Buffy had identified with Spike. She'd seen themselves as similar. Now, as the affair falls apart, the differences between them become more apparent.
Spike: Why are you doing this to yourself?

Buffy: (tearful) A girl is dead because of me.

Spike: And how many people are alive because of you? How many have you saved? One dead girl doesn't tip the scale.

Buffy: That's all it is to you, isn't it? Just another body!

Spike: (sighing) Buffy-

Buffy: You can't understand why this is killing me, can you?

Spike: Why don't you explain it?

She hits him a few more times. He takes it, not fighting back.

Spike: Come on, that's it, put it on me. Put it all on me. (She kicks him) That's my girl.

Buffy: (yelling) I am not your girl!
Spike, of course, coming from a soulless perspective, doesn't get the problem. And that's kinda crucial that her coping mechanism is completely unable to understand what's "killing [her]" right now.
Go back to the self-harm metaphor. You can take comfort in the cutting, but the knife doesn't "get" your pain. Your knife is just a tool. There's no understanding there. Only pain. But unlike Spike, your knife can't talk back to you and demonstrate how much it doesn't get you.
Then Spike goes and claims her for himself. "That's my girl." That sets Buffy off in a violent reaction.
Throughout this episode, we've seen Buffy struggle to get herself
out
of the "hole in the ground" she'd entered into. She's been isolated from her friends, rejected by her sister, and failed at her calling. She's slipping back into Death's grasp, and she
doesn't like it
. When Spike verbalizes this, puts it into words with that phrase, it provokes a round of defensiveness from her.
Course, then we get the
Dead Things
beating scene.
Buffy: You don't ... have a soul! There is nothing good or clean in you. You are dead inside! You can't feel anything real! I could never ... be your girl!
It doesn't take a too in-depth look to notice that this resembles Faith's breakdown in
Who Are You?
Buffy here is projecting herself onto Spike.
But let's look past that and look at the jumbled mess below the surface. Cause there's actually a
lot
going on, and this is the culmination of, basically, everything in this season.
As mentioned just a bit further up, Buffy initially started her affair with Spike because she identified with him. She was "wrong". He's also "wrong". It's a thing.
However, the comfort that that brought has worn out its welcome, and her entire world is breaking down. She has no place to run to escape anymore (besides jail). And she's finding that she
doesn't
want to identify with Spike anymore. Instead of offering her some relief, it brings her more and more problems. Especially with this latest argument where Spike clearly shows he's unable to grasp why Katrina's death upsets her. She doesn't want to be like him. She doesn't want to be "dead inside".
But she's afraid she is. She
knows
she has been since she got back.
The line, "you can't feel anything real" is very interesting. Obviously, it applies to Spike, where she's, once again, denying that he loves her. However, it also applies to herself. She doesn't believe
she
can feel anything. At least, not anything real. Not love. Not even the agony at Katrina's death.
Is her grief over Katrina's death genuine or is it her latching onto the opportunity for an easy out? Personally, I think there's a bit of both going on. She's distraught over Katrina's death, not for its own sake, but because of what it means about
her
. I've said before, but depression is a selfish illness. It's nearly impossible to think about anyone else when you're in the midst of it.
So the two explanations interact and go hand-in-hand. Buffy is upset because of what Katrina's death says about her, and that plays right into her need to
get out
of her life.
Back to the show! After some time, Buffy realizes what she's doing and she stops. Spike's thoroughly beaten at that point. Of course, remember the projection going on in this scene. It's not just the words Buffy's saying, but the actions. Buffy's
beating herself up
. That's what she's been doing all season long. And as she sees Spike bruised and bloody, she's also seeing what she's done to herself.
Obviously, this is upsetting. Buffy escapes to the police station. It's here that she overhears the crucial information that clues her in to who Katrina was and her connection to the Trio. Buffy's a smart girl and she puts the pieces together.
But why does this matter? Buffy's still at the breaking point. Couldn't she just take the escape and confess anyway? It'd get her out of her life.
Remember what the Trio represent. By figuring out that the Trio are responsible for Katrina's death, Buffy metaphorically finds out that the depression is responsible for her life woes. She
finally
has something, besides herself, that she can point to and say, "That's fucking me up."
Well, at least as far as the whole, "interfering with her Slaying" goes.
That gives her a way back in. It gives her just enough of a glimmer of hope to turn around and go back to her life.
She meets with the Scoobies, who quickly find the time-screwy demons that Buffy had fought. They all put the pieces together.
There's a brief Trio scene, but that's not important to this meta. Let's move forward to that final scene with Buffy and Tara. Tara reveals to Buffy that nothing's actually
wrong
with her.
This is an enormous revelation for Buffy, whose behavior for the past many episodes had hinged on that belief.
Buffy: I didn't come back wrong?

Tara: No, you're the same Buffy. (lightly) With a deep tropical cellular tan.

Buffy: You must have missed something. Will you check again?

Tara: (concerned) Buffy, I-I promise, there's nothing wrong with you.

Buffy: There has to be! This just can't be me, it isn't me. (starting to cry) Why do I feel like this? Why do I let Spike do those things to me?
Let's strap in, because there's some words to be said here.
There's three competing thoughts here: How Buffy views her depression, what Tara is telling her her depression is, and what depression actually is. Let's go in order:
When depressed, it's easy to feel like you're defective in some way. Like there's something wrong. Oftentimes, you can point to a trigger where things started going bad. You can say, "That
damaged
me." You're missing some part of yourself that allows you to be happy, to think clearly, to feel anything, to have the energy to get up in the morning. When you have that belief about yourself, it can become a crutch. An easy excuse to fuck everything up. Things you do, things you neglect, things you think...of
course
you're doing all that stuff. You're defective! You just went through *enter traumatic experience here*.
However, Tara is letting her know that, no, there's nothing wrong with her. This is the common reaction to depression. There's nothing wrong. You're not defective. You should be just fine. This is a devastating revelation because it leaves the person to have to accept everything they're doing and feeling as part of who they intrinsically are. Who is Buffy? She's the girl who uses a soulless vampire for sex, neglects her sister, and beats up the aforementioned vampire. She's the girl who isn't able to feel anything. That's
who she is
. Forever and always.
The reality is somewhere off the spectrum between the two. Depression is who you are
plus
a mental illness. It's not a deficiency so much as something extra. Something that dampens some of your natural feelings and reactions. Something that produces some unnatural feelings and reactions. It's possible that the "cellular tan" may be a reference to this view, though Tara is oblivious to the implications. However, I don't think it's quite that literal.
We're out of the metaphor now, and this is explicitly dealing with Buffy's depression head-on.
In the scene, Buffy tells Tara about her affair with Spike. We get to see some of those conflicted thoughts talked about openly.
Buffy: He's everything I hate. He's everything that ... I'm supposed to be against. But the only time that I ever feel anything is when ... Don't tell anyone, please.

Tara: I won't.

Buffy: (crying) The way they would look at me ... I just couldn't...

Tara: I won't tell anyone. I wouldn't do that.
"He's everything that...I'm supposed to be against." Again, this shows how pivotal it is to Buffy that he's a
soulless vampire
. That's a hugely important factor in why she's with him.
Buffy: (whispers) Why can't I stop? Why do I keep letting him in?

Tara: (concerned) Do you love him?

Buffy just stares at her tearfully.

Tara: I-It's okay if you do. He's done a lot of good, and, and he does love you. A-and Buffy, it's okay if you don't. You're going through a really hard time, and you're...

Buffy: (still tearful) What? Using him? What's okay about that?
And here we get to what had been laid out in the dream earlier and with the Spike-Katrina parallels throughout the episode. Buffy recognizes, out loud, that she's using Spike. This is something she hasn't wanted to admit or even think about.
After all, when cutting, the knife is just a tool. Spike isn't, though. He's a person with feelings. Buffy's been using him as if he
were
a tool, though, to release her angst.
Tara: It's not that simple.

Buffy: It is! It's wrong. I'm wrong. Tell me that I'm wrong, please...

Buffy starts to cry for real now.

Buffy: Please don't forgive me, please... (sobbing) Please don't...

She slides off the table onto the floor, kneeling, putting her head in Tara's lap. Tara looks uncertain, puts her hands comfortingly on Buffy's head.

Buffy: (sobbing, muffled) Please don't forgive me...
With Tara's information, Buffy is left with nothing to do but internalize everything she's been doing. And, obviously, she doesn't like it. She'd prefer to be "wrong". That would make everything easier.
So what about that disconnect between what Tara tells her and what the reality is? Well,
Normal Again
will deal with that.
Older and Far Away aka My life misses me...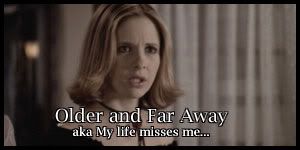 Whew! How do you follow on the heels of an episode like
Dead Things
? Well, apparently, you do this.
It's a Dawn episode. That's important because Dawn's Buffy's motivation for living, long ignored and neglected. This episode is where everything comes to a head with that.
We start with a scene illustrating the problem.
Buffy: (sighs) I'm sorry.

Dawn: It's okay.

Buffy: No, we're gonna sit down and have a real dinner. Someday. I hate having to run out in the middle, it's just, you know, there's this thing out there. Definitely non-vampire.

Dawn: (smiling) I understand.

Buffy picks up the bag, goes toward the door.

Dawn: Well, maybe when you get back we can set up for your party tomorrow.

Buffy: Yeah. Uh, this could take a while though, I-I wouldn't wait up. (putting on her coat) Besides, Willow promised to be on birthday patrol, so there's nothing left for us to do. (smiling)

Dawn: Right.

Buffy: Okay, so, finish dinner, homework, and don't stay up too late, all right?

Dawn: Okay.

Buffy: Okay.
Buffy's back at the Slaying now. In the last episode, her problems with her duties were the only thing she was able to blame external factors for. So she feels confident enough to continue with that. Unfortunately, it means she's still neglecting life.
Let's fast forward to the party. Spike shows up uninvited and unexpectedly. He says
Willow
mentioned it.
Buffy: (surprised) Spike.

Spike: Yeah. Willow mentioned the shindig ... figured we're all part of the team.
Apparently, Buffy's been keeping her distance from Spike since the events of the last episode. But Death is still coming back to her, at Willow's word, no less. Shades of
Bargaining
.
Things are different now, though. Spike (Death) is struggling to keep a hold on her. In this episode, Anya and Xander invite a friend of theirs in the hopes that Buffy will hit it off with him. And Buffy seems eager to...well, to not be with Spike. Remember how Spike isn't the comfort he once was, especially after things broke apart in the previous episode. Buffy's still struggling to find other ways to cope.
Spike: You wanna slip away for a minute, luv?

Buffy: What?

Spike: I'll let you blow out my candles.

Buffy: Here. Now? I don't think so.

Spike: Oh, what, you worried about Richard? You don't wanna make your new boyfriend jealous, huh?

Buffy: (grinning) Shut up. He's ... sweet.

Spike: (teasing) "Oh, shut up, he's sweet."

Buffy: Maybe he's not the jealous one.
Here's the interesting thing. Richard presents what would, in any other season, probably be a viable love interest for Buffy. Think of a Ben or Scott Hope type. However, Buffy doesn't even seem to
consider
Richard in this episode. Instead, she's too busy bickering with/teasing Spike. Death, as always, coming uninvited and interfering with Buffy's real life. It's distracting her. And even though she kinda wants to avoid it, she's more likely to spend time with it than with...you know, the new guy.
But the basic premise of the episode is that Dawn's tired of being neglected and inadvertently makes a wish that nobody leaves. So, of course, everybody ends up stuck at the party. Most of the scenes aren't incredibly relevant to this meta, but there's still some parts to be picked out.
For one, Buffy and Dawn finally have a talk about how Dawn's been feeling.
Buffy: I wish you would have told me.

Dawn: You haven't really been...

Buffy: What? I haven't been what?

Dawn: Around.

Buffy: Dawn ... the most important job that I have ... is looking out for you.
Up through the season, Buffy's known she's been letting down Dawn, but they've never actually
talked
about it. Specifically, about how it's affecting Dawn. And remember the metaphor. This isn't just about how Buffy's depression is affecting
Dawn
. It's about how Buffy's depression is affecting her
life
.
By the end of the episode, Buffy purposely stays in with Dawn when everybody else leaves. It's the first positive step we've seen Buffy take in regards to Dawn, and it'll be important to get where she'll end up at the end of the season.
Next up:
As You Were
and
Hells Bells
Buffy Came Back Wrong: Bargaining and Afterlife
Buffy Came Back Wrong: Flooded and Life Serial
Buffy Came Back Wrong: All the Way and Once More, With Feeling
Buffy Came Back Wrong: Tabula Rasa and Smashed
Buffy Came Back Wrong: Wrecked, Gone, and Doublemeat Palace
Buffy Came Back Wrong: Dead Things and Older and Far Away
Buffy Came Back Wrong: As You Were and Hell's Bells
Buffy Came Back Wrong: Normal Again, Entropy, and Seeing Red
Buffy Came Back Wrong: Villains, Two to Go, and Grave
All Entries
No clue what this is?
Current Mood:

accomplished

Current Music:

Slider Pines - Pulling Teeth
---