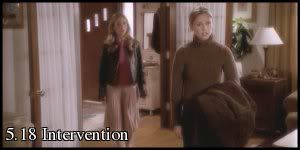 Poll #1840420
Open to:
All
, detailed results viewable to:
All
, participants: 133
1. Which do you think is creepier: Warren and his bot or Spike and his bot?
2. Most entertaining bit of Buffybot programming towards Buffy's friends?
3. At the end, when Buffy is pretending to be the bot, she indicates that she knows who the Key is. Did Spike program the Buffybot with the knowledge that Dawn was the Key?
4. Unlike the Aprilbot, the Buffybot is based on a real person. Some people argue that Spike's use of the Buffybot is not unlike a person masturbating to another person's photo in concept. Do you agree?
5. Spike provokes a storm of fan controversy. One particular debated aspect is whether Spike is capable of doing good deeds for selfless reasons. Some fans argue that his withstanding Glory's torture qualifies. Do you agree?
6. Buffy kisses Spike at the end of this episode, as a thanks for protecting Dawn. Is there a romantic element to her kiss, as well?
7. Pretend you're a movie reviewer and give this episode a star rating:
---