The Body
.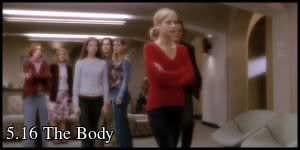 Poll #1837501
Open to:
All
, detailed results viewable to:
All
, participants: 121
1. This episode is composed of several long scenes. Which one is your favorite?
2. Best performance of the episode?
3. Some people don't like the vampire near the end. They think it ruins the mood of the episode. What say you?
4. Which major death in the series got to you most? (Not including deaths where the characters come back)
5. Pretend you're a movie reviewer and give this episode a star rating:
This feels like an awkward episode to poll over for some reason. Ah well. Let's do
---