Still, have a poll!
Midpoint of S5, anyone? You know you wanna poll for
Blood Ties
...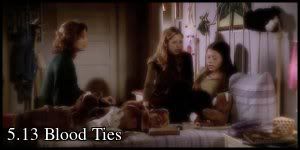 Poll #1832620
Open to:
All
, detailed results viewable to:
All
, participants: 109
1. Buffy finally tells the others that Dawn's the Key. They're annoyed that she took so long. Do you think she was in the right to keep that info under wraps?
2. The Knights of Byzantium make another appearance in this episode. Some people have issues with these guys. What say you?
3. Which Scooby do you think does the worst job of "acting normal" around Dawn?
4. Is Glory prettier than Buffy? Dawn says yes.
5. Dawn finds out she's the Key in this episode. Should Buffy have told her earlier?
6. Spike complains about not being in "the bloody loop" with regards to Dawn as the Key. Should he have been told?
7. Glory threatens to brain-suck Dawn before Buffy interrupts. Would she have been able to?
8. Pretend you're a movie reviewer and give this episode a star rating:
So I'm taking the GRE next Monday. I'm CRAMMING. As such, I may be a mere ghostly presence in the LJ world for the next week. (Though there may be more Wordy fic soon...)
---