Fool for Love
! I'm so excited!
William! If some of these look familiar, it's because I've kinda done polls for this episode in the past. I'm a fan of recycling...but there's new people and maybe your opinion's changed! Also, new questions! Have at it! Seriously, I had to stop myself. I was coming up with far too many questions. It's not fair to the other episodes.
Let's do this!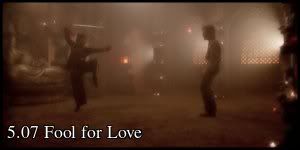 Poll #1817396
Open to:
All
, detailed results viewable to:
All
, participants: 150
1. After Buffy is stabbed by a vampire, Riley offers to patrol. Buffy insists that he take the Scoobies along with him. Reasonable?
2. So...Cecily?
3. Did William actually go back and drive railroad spikes through those party-goers' heads after he was turned?
4. So did Drusilla actually use her super-seer sense to realize how fantastic Spike would be when she turned William?
5. Do all Slayers have a death wish?
6. Does Buffy have a death wish?
7. Does Buffy want to dance?
8. Buffy shoved Spike to the ground, threw money at him, then gave him the ultimate put down.
9. The Chinese Slayer or the Subway Slayer?
10. If Buffy hadn't been crying - and assuming his chip wouldn't disable him - would Spike have shot and killed Buffy?
11. Did Spike tell Buffy the truth about his past as a bloody awful poet and his rejection by Cecily?
12. Which flashback did you like best?
13. Pretend you're a movie reviewer and give this episode a star rating:
---