Unpopular Opinions Sanctuary Post
is still chugging along, guys. Give it a look-see if you have a few spare hours. :)
We gotta do
Primeval
now, though.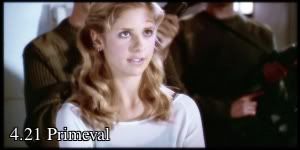 Poll #1797139
Open to:
All
, detailed results viewable to:
All
, participants: 100
1. Maggie returns in this episode! As a weird-looking zombie thing. Worthy final appearance for her?
2. The Scoobies become a superbeing with each one of them contributing an aspect. Let's do some scales. Rate below how appropriate each symbol is. We'll start with Buffy. "The Hand". 1 = Not at all; 10 = Completely.
3. Willow! "Spirit"
4. Xander! "Heart"
5. Giles! "Mind"
6. Spike tried to break the Scoobies apart in the previous episode on Adam's order. In this episode, his plan fails and Adam turns on him. Spike quickly switches back to the Scoobies' side. Should he have been staked at this point?
7. The big fight scene between Buffy and Adam shares some resemblance to certain The Matrix scenes. Do you mind?
8. Pretend you're a movie reviewer and give this episode a star rating:
The
---