Read the first post in the series.
There ought, I thought, to be a ritual for being born twice - patched, retreaded and approved for the road.
- Sylvia Plath,
The Bell Jar
, Chapter 20
We're reaching near the end of the season, however there's still plenty of material to discuss. I know it may not seem like much happens with regards to Buffy's depression arc after
Normal Again
, but I hope to be able to point out some things for you guys.
As usual, I want to stress that this meta has a very narrow focus. S6 is multi-layered and has many, many different, valid, interpretations. By detailing this particular viewpoint, I'm not in any way attempting to negate other ones. Also, as a result of the narrow focus, a lot of truly fascinating things will just not be covered, especially as concerns Spike's side of the story in these few episodes.
This meta is not to excuse anything Buffy does during S6, but is intended to explain her mindset so that a greater understanding of her character and her depression can be available.
Now let's get on with it!
Normal Again aka I'm done with this shit...
As always, it's necessary to set the stage as to where we are in Buffy's arc.
Dead Things
was a significant episode for her in that she recognized that trying to escape into the darkness with Spike wasn't a viable - or healthy - option. Since then, we've seen her begin to embrace Dawn (Life) again in
Older and Far Away
. We've also seen her call things off in
As You Were
when Riley's visit prompted her to attempt to regain who she'd been previously. Then we get to
Hell's Bells
, which isn't directly about Buffy, but has a huge impact on her nonetheless.
Buffy's scrabbling up to the top of the hole, and she's attempting to use Xander/Anya as something of a model of inspiration. When their marriage doesn't go through, Buffy finds herself sliding backward. Knowing that someone else out there is capable of making it gave her hope. Xander leaving Anya at the altar took that hope away.
This episode deals a lot with Buffy's friendships and how important they are to her. Her relationships with her friends have been strained this season, with good reason. However, her friendships have always been of central importance to Buffy, as best represented in S4's
Restless
. Her distance from her friends in this season is both a cause and a symptom of her depression.
Does Buffy have legitimate grievances against her friends? Absolutely. However, it's also important that she be able to let that go and move on, which she'll start to do in this episode. The process by which she'll come to an understanding with her friends will take several episodes, and it does require amends on both sides.
We begin this episode with Buffy actively hunting the Trio. For the first time this season, we see Buffy proactively dealing with them. Remember the Trio as representing Buffy's depression. They'd been absent through the past several episodes (since
Dead Things
), but now they're back.
Normal Again
(NA) acts as something of a medication metaphor. If you pull back from it, it's very allegorical of Buffy's struggle during this season, as a whole. I hope to be able to detail that convincingly for you guys. :)
As noted, we first find Buffy seeking out the Trio. The Trio, themselves, are falling apart since the murder of Katrina. Buffy's depression is losing cohesion.
In an effort to drive Buffy away, the Trio summon a demon to fight her off. It poisons her during the struggle and gets away. As soon as she's poisoned, Buffy flashes to a mental hospital where she's being forcibly medicated.
Let's give a little legend here to make it easier to follow the metaphor.
The demon and poison: Buffy's depression.
The mental hospital hallucinations: The death that Buffy had yearned for. Her embracing her depression.
Reality: Reality.
This set-up makes explicit the interpretation of depression that Riley had given Buffy in AYW: That depression is something
in addition
to who she is. It's a foreign illness that she can't help. Setting up Buffy's depression in such a fashion will make it much more apparent for her friends, and we'll see that their support of her is very different in this situation.
We'll skip past the Willow scene to go to Buffy at the
Doublemeat
. She's kind of out of it, and she flashes to a hallucination when her boss tries to talk to her.
BUFFY: (confused) What?

LORRAINE: I said, if I didn't know any better, I'd think you were on drugs.

BUFFY: (confused) Okay. Good.
I've written before about how depression can affect work performance. Consider the poison-induced hallucinations as just super-saturated bouts of depression for Buffy. It makes it impossible for anybody to ignore.
The next scene involves Buffy, Willow, and Xander. Buffy is able to be supportive of Willow with regards to Tara, and she's able to talk to Xander about his problems. She's coming out of the depressive shell and beginning to interact with her friends again. This is a good.
We next get Buffy on patrol running across Spike. They manage to have a civil conversation until the other Scoobies come along.
It's interesting that we're now seeing Willow and Xander patrol when we haven't seen it since Buffy was resurrected. Either we were just not shown it previously, or they're taking it back up again, possibly in response to their own problems.
In any case, once her friends come, Buffy shuts down on Spike.
It's something of a survival instinct. Her friends have proven fairly unsupportive about her depression in the past. Now that she's finally reconnecting with them, she's trying to hide any indication of what she's been through - and what she's still going through. Spike still represents Death to Buffy (and will through the end of the season). She can be friendly with him alone, but when her friends come along, she feels compelled to distance herself from him.
As Spike and Xander come to blows, Buffy flashes to the mental hospital.
As noted above, in this episode, the hallucinations represent what Spike usually represents: an escape. In times of conflict (as is happening between Spike and Xander), Buffy retreats - unwillingly - to the other world.
In that world, she's assured by the doctor that Sunnydale isn't real, never was real, and that she's in a mental institution. It's then that Joyce and Hank enter.
SPIKE: Here, let's get her back to my crypt.

XANDER: Spike, just go, okay? (Buffy looking confused) She's our friend, we'll take care of her.
This is an interesting exchange when looked at in the context of the depression arc. Spike (and his crypt) have season-long been symbolic of death. Spike's offering to take Buffy back there when her hallucinatory depression strikes, but Xander refuses.
Instead of going along with death, Buffy's friends are actually
helping
her in a way we haven't seen at all this season.
NA uses the demon in order to metaphorically 'heighten' Buffy's depression symptoms to the point where her friends just can't ignore them. What's more, having a outside source as explanation (the demon poison) allows them to bypass the whole, "Buffy's just wrong" thing and actually help her.
After all, these flashes are stand-ins for what we'd seen before. Buffy hallucinates in during work at the Doublemeat Palace; Buffy had been in a depressive malaise during work at the Doublemeat Palace. Buffy hallucinates during a time of conflict; Buffy seeks out Spike for escape during a time of conflict. However, the hallucinations give Buffy's depression a legitimacy that her illness, on its own, hadn't had with them. If Buffy's acting vaguely out of it or disappearing a lot (to be with Spike), that's just Buffy in a funk. However, if she's having
hallucinations
, then something's fucking wrong with her and they must help!
Xander and Willow get Buffy home, and Buffy explains about the demon attacking. They immediately go into Scooby Mode, researching and hitting demon bars to help Buffy.
At this point, Buffy flashes to another hallucination. Forgive the long excerpt, but it's pretty important.
DOCTOR: Buffy's delusions are multi-layered. (Joyce and Hank listening intently) She believes she's some type of hero.

JOYCE: The Slayer.

DOCTOR: The Slayer, right, but that's only one level. She's also created an intricate latticework to support her primary delusion. In her mind, she's the central figure in a fantastic world beyond imagination. (Buffy staring into the distance, frowning) She's surrounded herself with friends, most with their own superpowers ... who are as real to her as you or me. More so, unfortunately. Together they face ... grand overblown conflicts against an assortment of monsters both imaginary and rooted in actual myth. Every time we think we're getting through to her, more fanciful enemies magically appear-

BUFFY: (suddenly realizing) How did I miss-

DOCTOR: and she's-

BUFFY: Warren and Jonathan, they did this to me!

Buffy becomes agitated, tries to get up out of her chair. The doctor reaches over to stop her.

DOCTOR: Buffy, it's all right. They can't hurt you here. You're with your family.

Buffy looks around, upset.

BUFFY: (tearful) Dawn?

HANK: (to doctor) That's the sister, right?

DOCTOR: A magical key. Buffy inserted Dawn into her delusion, actually rewriting the entire history of it to accommodate a need for a familial bond. (to Buffy) Buffy, but that created inconsistencies, didn't it? (Buffy staring at him) Your sister, your friends, all of those people you created in Sunnydale, they aren't as comforting as they once were. Are they? They're coming apart.

Buffy whimpers, lowers her head again.

JOYCE: Buffy, listen to what the doctor's saying, it's important.

DOCTOR: Buffy, you used to create these grand villains to battle against, and now what is it? Just ordinary students you went to high school with. (Buffy staring at him) No gods or monsters ... just three pathetic little men ... who like playing with toys.
Her hallucinations act as a commentary to her depressed viewpoint of her own situation. Her world is "coming apart", her friends aren't as comforting as they once were. She used to have grand villains to fight, but now she 'just' has ordinary guys.
We see so many indications of where Buffy is. Her entire world has fallen apart, still in the process of trying to come back together. Her distance from her friends. And then, the minimization of her own struggles as she 'just' has three pathetic little men to fight. As noted before, the Trio represent her own depression, and this shows how Buffy views it: As something that
shouldn't
be a big deal, but somehow is. The fact that it is proves that there's something wrong with her.
This is a mix of just about everything Buffy's gone through this season. This is why NA is best thought of as an allegorical episode, much in the sense of
Restless
.
Just as Buffy is shown falling apart, we get a scene that also shows how the Trio are falling apart. Buffy's depression is self-destructing.
We then get a scene between Willow and Buffy. Buffy's staring at a family photograph.
BUFFY: (very quietly) I feel so lost.

WILLOW: I know. You're confused. It's, it's that crazy juice inside you.

BUFFY: It's more than that. (Willow frowning) Even before the demon ... I've been so detached.

WILLOW: We've ... all been kind of slumming.

BUFFY: Every day I try to ... snap out of it. Figure out why I'm like that.
Buffy knows that what she's feeling isn't all directly attributed to the demon. Willow wants to push the blame over to it, but Buffy knows better. Willow's response, that they've all been slumming, sounds good on paper, but it's actually kinda cringeworthy.
When I was trying to explain to a friend about the depressive episode I was currently in, I poured my heart out about the misery and despair I was in. Her response was, "Yeah, I've had my bad days, too."
It never works when people without depression attempt to compare their experiences 'feeling down' with actual depression. All it does is further alienate the depressed person. It affirms their loneliness at the same time it shames their suffering (because
everybody
has their bad days).
Buffy's choice of phrasing, she tries to "snap out of it", is very reminiscent of what many depressed people are told to do by others. They often internalize it, much like Buffy appears to have.
Buffy confides in Willow, then, that she had been in a mental institution at one point before the series started. This bit of new canon helps to convince Buffy that her world
is
the hallucination. Everything's falling apart. Nothing's real. Reality
must
be the mental hospital.
As Buffy and Willow talk, Spike has been recruited to help hunt down the demon with Xander.
Spike's reaction to Buffy's depression has soured by this point.
SPIKE: So, she's having the wiggins, is she? Thinks none of us are real. Bloody self-centered, if you ask me.
There are reasons for Spike's shift in attitude, but it's outside the bounds of this meta. At this point, though, Spike becomes a harmful presence above and beyond what he had been before because of his accusative attitude towards Buffy's mental state.
Xander and Spike manage to snag the demon, and Dawn brings some tea to Buffy. In the meantime, Buffy's hallucinations are working to convince her that Dawn doesn't exist. Remember that Dawn represents Life for Buffy. As Dawn goes, so goes Buffy's spark for life.
DAWN: (tearful) I'm not even there, am I?

BUFFY: What?

DAWN: You said it a second ago. You don't have a sister.

Dawn stands up. Buffy looks upset.

DAWN: It's your ideal reality, and I'm not even a part of it.

BUFFY: Dawn, I ... I didn't mean-

DAWN: I have to go finish my chores.
It's interesting that Dawn appears to believe that this is Buffy's "ideal reality". I suppose it can be taken as her mind's perfect escape hatch. She has the past experience in a mental institution to fool her brain into thinking it's plausible. It has both her parents, alive and together. It doesn't have any of the Slayer duty or responsibility that ended her up in her current position. That, of course, precludes Dawn.
In any case, she's naturally taken aback by Buffy's declaration and leaves, as she often does at this point of the season.
Willow makes with the chemistry and cooks up an antidote for Buffy.
BUFFY: What happened?

WILLOW: (gives her the mug) It took a little longer than I'd hoped. No magic and all. Went boom twice, but then I got it. Just ... when it's cool, drink it all down, and ... everything should go back to normal.

BUFFY: You never stop coming through. Thank you, Willow.
The antidote in this episode acts as a metaphor for antidepressants, or mental health meds in general. The promise attached to them is that things will go "back to normal". We'll see that there's still often some hesitation in their actual usage.
It's interesting to see Buffy's expression of gratitude to Willow here. At the beginning of the season, Willow lamented that Buffy
didn't
thank her for the resurrection. In fact, part of Buffy's descent into badness was fueled by her bitterness towards her friends, Willow included. The fact that she's now thanking Willow suggests that she
is
on an upswing. However, it also suggests that she's fully blaming herself for everything rather than holding the others accountable for their actions. She's begun to internalize and take responsibility for everything in this season.
In some ways - twisted ways - this is essential for Buffy being able to reconnect with her friends, as this episode will show.
SPIKE: How is she?

WILLOW: (goes to the door) Make sure she drinks all that. I'm gonna let Dawn know that everything's gonna be okay.
Going with the antidote as antidepressant metaphor, it's often viewed as a quick fix by friends and family. Willow's gonna run to Dawn to let her know everything's gonna be okay. Cause Buffy will be instantly cured as soon as she takes it. Boom! No more depression.
Of course, antidepressants don't work like that. They can take a few months to have full effect, and a person can often backslide before ultimately improving. Likewise, even though Buffy started her recovery from depression back in
Dead Things
, it takes her until the end of the season to
actually
recover. There's no quick fix.
Once Willow leaves, Spike and Buffy have a conversation. For Buffy's part, she's half out of it. For Spike's part, her confused response only further infuriates him.
SPIKE: (slightly calmer) I hope you don't think this antidote's gonna rid you of that nasty martyrdom. (Buffy still not looking at him) See, I figured it out, luv. You can't help yourself. You're not drawn to the dark like I thought.

Buffy looks up at him now, still frowning.

SPIKE: You're addicted to the misery. It's why you won't tell your pals about us. Might actually have to be happy if you did. They'd either understand and help you, god forbid ... or drive you out ... where you can finally be at peace, in the dark. With me. Either way, you'd be better off for it, but you're too twisted for that. (pauses) Let yourself live, already. And stop with the bloody hero trip for a sec. We'd all be the better for it.
Just as Buffy ostensibly has the cure to her depression in front of her, Spike reiterates the viewpoint that she is just intrinsically
wrong
. That the antidote won't help. That the only thing she can do is just snap out of it, get over it, (and be with him).
As Spike (Death) is losing his hold over her, he starts to lash out in an attempt to regain it. This will culminate in
Seeing Red
, but for this episode, the damage is done.
Buffy pours the antidote into the trash.
Flash back to the asylum.

BUFFY: (tearful) I don't wanna go back there.

We see CrazyBuffy sitting on the bed, the doctor standing on one side of the bed while Joyce and Hank stand on the other side.

BUFFY: I wanna be healthy again. (Joyce smiling hopefully. Buffy turns to the doctor) What do I have to do?
Spike's words act as the final push to Buffy seeking out the escape of the mental hospital.
Let's talk about the antidepressant metaphor here. Antidepressants are intimidating. You don't know if they're going to work. You don't know if the side effects will be bearable. You don't know if they'll make you flip out and try to kill yourself. What's more, you know that this is a pill that you will have to take every day. Possibly forever. Something that's gonna alter the chemistry of your brain.
That's scary stuff. It's a scary step to take. It's an especially scary step to take when you've internalized that your depression is just a part of you. Riley prodded Buffy in the right direction by correcting that belief, but it's still taking a while to seep in. In the meantime, Spike manages to direct Buffy to the mindset that she's best off just snapping out of it.
This does a couple things. For one, it sends Buffy running to that escape hatch. She embraces the hallucinations, much like she'd embraced the decision to turn herself in for Katrina's death in
Dead Things
.
I think it does something more, though. It actually makes Buffy
believe
the hallucinations. Spike's words hit close to home because they resonate with her depressed mindset. It reminds her of how
much
everything is falling apart and how screwed up she is.
She decides that can't be real.
That's something of a thing, there. The depressed mindset has become to foreign, Buffy starts to believe that a poison-induced hallucination is reality.
Depression does make you a stranger in your own mind. It sufficiently warps your perceptions to the point where reality often seems...off. Alien. I'd often think that I was going to wake up in some futuristic sci-fi world and this whole life of mine was some sort of VR experiment or something. Everything I was feeling, everything I was doing, it became too much for me to accept as normal.
If given the right hallucinations, I can't say
I
wouldn't have started believing them, either.
Back to the show, Buffy appeals to Joyce and the doctor in her hallucination. She wants to get better and go home with her parents.
DOCTOR: It's not gonna be easy, Buffy. You have to take it one step at a time. You have to start ridding your mind of those things that support your hallucinations. (Buffy looking up at him) You understand? There are things in that world that you cling to. For your delusion, they're safe-holds, but for your mind they're traps. We have to break those down.

BUFFY: (softly) Slaying?

DOCTOR: Yes ... but I'm talking about those things you want there. What keeps you going back.

BUFFY: My friends.

DOCTOR: That's right. Last summer, when you had a momentary awakening, it was them that pulled you back in.

JOYCE: They're not really your friends, Buffy. They're just ... tricks keeping you from getting healthy.

DOCTOR: You have to do whatever it takes to convince yourself of that, Buffy. Whatever it takes.
The doctor and Joyce urge Buffy to rid herself of her friends.
Let's zoom out and take this in the context of the larger season allegory. Depression
does
rid a person of their friends, though often in subtler ways. I've lost friends thanks to my depression. What's more, I thought I was better off without them.
This episode makes this fairly explicit with Buffy hunting down her friends and tying them up to be killed by a demon in the basement. It shows the harmful effects of her depression on others. Not just as a friend, but as the Slayer. She's the one who's supposed to kill demons, and yet she's using them as a weapon against her own friends.
It's strange, though, that this episode stresses her friends as a support structure when...they haven't been through most of the season. What they
have
been, though, are Buffy's motivation for almost everything. They're the reason that she initially didn't tell anyone (except Spike) about where she was. They're the reason she put aside her own well-being to keep going rather than killing herself. She was brought back to be the "warrior of the people".
Like it or not, her friends have kept her going. They're essential, even when they're being inadvertently harmful. By rescuing them at the end of this episode, Buffy is coming full circle and reasserting her duty and responsibility that she had attempted to reject earlier in the season.
Back in reality, Buffy runs into Willow and promptly knocks her out and takes her to the basement. Xander meets the same fate when he returns. Dawn is the last that Buffy goes after. When Buffy approaches her, Dawn is packing her things to stay the night at Janice's. Buffy subdues her and takes her down to the basement.
All the while, her hallucinations are encouraging her as she looses the demon on her friends. Things start to get dire in the real world, when figment!Joyce gives Buffy an inspiring speech.
JOYCE: Buffy? Buffy! Buffy, fight it. You're too good to give in, you can beat this thing. Be strong, baby, ok? (Buffy crying) I know you're afraid. I know the world feels like a hard place sometimes, but you've got people who love you. (tearful) Your dad and I, we have all the faith in the world in you. We'll always be with you.

CrazyBuffy calms down as these words start to sink in.

JOYCE: You've got ... a world of strength in your heart. I know you do. You just have to find it again. (whispering) Believe in yourself.
While Joyce's words are meant to appeal to Buffy to stay in her delusion, they end up doing the opposite. They crystallize which is reality and which is not for Buffy. What's more, they
urge
her not to give in.
"I know the world feels like a hard place sometimes, but you've got people who love you." That's Buffy's friends. For better or for worse, regardless of mistakes made, her friends love her. Watching her friends being attacked while having the image of her mother assure her that she has a "world of strength in [her] heart" allows Buffy to snap out of it.
BUFFY: You're right. (sad smile) Thank you.

Joyce smiles.

BUFFY: (tearful) Good-bye.

Joyce looks surprised, then horrified. CrazyBuffy looks away.

JOYCE: (anguished) Buffy.
When Buffy says, "Good-bye", she's not just talking to her mother. She's talking, also, to her depression. To her method of escape, whether it be Spike or jail or hallucinations. She's accepting responsibility as a Slayer, a sister, and a friend and taking up her duties. In doing so, she has to say farewell to that which had been holding her back - the safety nets, the coping mechanisms.
She promptly dispatches the demon.
BUFFY: (whispers) I'm so sorry.

WILLOW: Buffy? We're okay. It's all okay. (Buffy stumbling(?)) Buffy, sit down. You'll fall over.

BUFFY: No ... I can't. Not until I have the antidote.

WILLOW: Okay. We-we'll make more, we'll take care of it.

Close on Buffy's face.

WILLOW: (OS) Everything's gonna be okay, Buffy.
Where does this leave Buffy?
Normal Again
marks the concrete end of her actual depression. She defeats the demon (depression) and gets the antidote (the meds). "Everything's gonna be okay".
However, just because the depression is "officially" over doesn't mean that its effects still aren't being felt. The rest of the season is integral to Buffy's depression arc. She's still at odds with Dawn, who feels she's not wanted in Buffy's life. Accepting Dawn is absolutely essential to Buffy's final emergence from her depressive funk. And that's something we won't see until the end of
Grave
So stick around, because the next several episodes are very important, if not as intensely focused on Buffy's depressions as the previous ones had been.
Entropy aka I'm making amends...
The beginning of this episode shows Spike (Death) attempting to help Buffy. Buffy, for her part, completely refuses to accept his help. Or anything to do with him. After her progress in
Normal Again
, we're seeing her cut ties with Spike and what he represents.
BUFFY: I am not telling my friends about us.

SPIKE: Right, I'll just be dropping him down to you then.

BUFFY: (still struggling with Vamp 1) You wanna tell them so badly? Go ahead.

She finally manages to get a hand free and stakes the first vamp. Buffy stands up and walks over to the gate, looks up at Spike and the still dangling Vamp 2.

BUFFY: You know why? I tried to kill my friends, my sister, last week ... and guess how much they hate me. Zero. Zero much. (shrugs) So I'm thinking, sleeping with you? (Spike looking annoyed) They'll deal.
After the events of NA, Buffy's friends have finally seen the depths of her depression (and felt its effects). And they're still sticking around. That means something. My closest friends are the ones who stuck with me through my depression, because I
know
that they will accept me no matter what.
However, it's interesting to see this in light of Xander's reaction to the Buffy/Spike affair. Just as he has issues with Buffy and Spike, he had issues with Buffy's depression. It took time for him to come to terms with both. It's not as sitcom-y easy as a big group hug. It takes time and understanding, and it's going to hurt sometimes.
We also see Buffy taking Dawn on an outing. They directly address Dawn's prior stealing. This is a nice metaphorical way of bringing up the past life issues Buffy has had and how she's dealing with them now.
BUFFY: It'll pass. You've returned all the stuff that you still had, and we're paying for the rest.

DAWN: I'm paying for the rest.

BUFFY: We'll figure it out.
She's playful and confident and secure that things will work out. This is a Buffy who is heads and away in a better place than she had been previously.
A later scene shows Buffy making an elaborate breakfast for Dawn. She'd previously been unable to manage to make a decent meal for her sister, but she's going above and beyond now. She's also proactively attempting to take Dawn out.
Dawn quickly points out that it's because of the basement thing.
DAWN: (quietly) I'm gonna be okay with the basement thing. Really. You weren't you.
In part, this is probably true. The poison and delusions in NA were a stand-in for Buffy's depression and her behavior. After having been depressed for so long, she's eager to reforge her old connections.
However, Buffy assures her that she just wants to spend time together.
DAWN: (smiling) No, you're not, it's not that, it's just ... what if, instead of you hanging out with me? Maybe I could hang out with you.

Buffy stares blankly, not getting it.

DAWN: Why don't I come patrolling with you tonight?

BUFFY: Oh. And then? Maybe we can invite over some strangers and ask them to feed you candy.

DAWN: Well, you guys went out patrolling every night when you were my age.

BUFFY: True ... but technically, you're one-and-a-half.
Dawn brings up what will be the main issue for the next several episodes. Dawn wants to help slay. She wants to be a fully active partner in Buffy's life. Buffy...not too fond of that idea.
DAWN: I just ... I just think I could help.

BUFFY: I'm sure you could. But it's a little more dangerous than I had in mind.

DAWN: But-

BUFFY: Dawn, I work very hard to keep you away from that stuff. Okay, I don't want you around dangerous things that can kill you.

DAWN: Which would be a perfectly reasonable argument, if my sister was chosen to protect the world from tax audits? But, see, my sister is you, and ... dangerous things that want to kill me seem to find me.

BUFFY: But you don't need to go looking for them.
Think about this in the context of the depression metaphor where Dawn is representative of life. After her struggle with depression, Buffy is a bit gun-shy. She's scared to fully embrace and expose herself (and her life) to everything, especially the potentially dangerous stuff.
"I work very hard to keep you away from that stuff." She
does
work very hard. She works probably harder than she needs to to control herself and her life.
Okay, let's use a bit of a cliche example here. My first major depressive episode was because of a guy (*rollseyes*). I was in love, it was unrequited, drama happened. Drama like I'd never had before.
I got over the depression eventually, but I was still reluctant to go through that experience again. I attempted not to expose myself to situations wherein I might, again, end up in such an unequal romantic relationship. I did so to the point of hindering my own development.
That's where Buffy is now with Dawn. Buffy's depression centers around Dawn as a catalyst in some ways. Once her mother died in S5, Buffy had to toughen up in order to help Dawn. In
The Gift
, she jumps in part in order to save Dawn. When she's resurrected, she hides her own pain so that Dawn can feel better. Buffy's drive to protect Dawn at all costs is admirable, but it's also ultimately harmful to her. Being able to get rid of this drive and instead embrace Dawn as an equal partner is very important.
The rest of the episode deals with Anya and Spike (and Buffy and Xander). Most of this is not related to Buffy's depression arc, so I don't have much to comment on. It's natural that Buffy's depression coming to an end would signal the end of Spike's function as Death. He still plays that role from time to time from here to the end, but he spends much more time being Spike now.
There is another exchange between Buffy and Dawn near the end that deserves to be highlighted. After the gang spy Spike and Anya getting it on, Buffy retreats to the back yard and presumably tells all to Dawn.
DAWN: So. This is it? This is the stuff you've been protecting me from? You and Spike?

BUFFY: And a lot of monsters.

DAWN: Uh-huh.

BUFFY: But it's over. (Dawn sitting in the other chair) Spike.

DAWN: I wish you'd told me.

BUFFY: I kinda didn't wanna admit it to myself.

DAWN: I get that.

Buffy continues staring at the ground.

DAWN: I know it must hurt. To feel like you have to hide, to keep secrets from everybody?

Buffy looks at Dawn, pensively.
Dawn is attempting to take the place of Buffy's confidant, a role that Spike had filled at the beginning of the season. However, because of Buffy's reluctance to expose Dawn to the darker stuff, she's hesitant to take her up on it. We'll see this progress in later episodes.
Oh, look. Time for
Seeing Red
.
Seeing Red aka Now my friends have problems...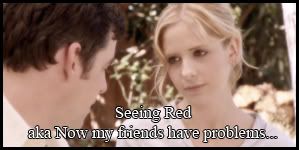 I know that there are a couple of controversial events in this episode (the attempted rape scene and Tara's death). Neither of these scenes are particularly relevant to Buffy's depression arc. As such, I do not want comments about either of them
unless
you do connect them to her depression arc in some way. If an off-topic comment about either one of these is posted, the thread will be frozen.
Let's get on with the episode, then. :)
There's an interesting part to the Willow/Tara conversation at the beginning of the episode.
TARA: They've been sleeping together.

WILLOW: (laughs) No. I wouldn't go that far.

TARA: No, I mean she told me they've been sleeping together.

Willow sits up to stare at Tara.

WILLOW: Sleeping together? You mean like the naked kind of together?

TARA: (sighs) I'm sorry I didn't say anything, but I, I promised her I wouldn't.

WILLOW: (shocked) Does everybody else know? Am I the only one she didn't-

TARA: God, no. She, she didn't even mean to tell me, it just came out.

WILLOW: (still shocked) How could she hide something like this from me?
This will be important later on during the Dark Willow arc. Buffy's depression has left her at a distance from her friends. She's managed to repair some of the damage but not all of it.
Buffy is busy investigating the Trio and getting the group together to help.
DAWN: Maybe they've heard something in the demon bars about those guys. (tentatively, looking at Buffy) Spike-

BUFFY: (quickly) Spike .... Spike's not part of the team.

DAWN: (softly) So he's not ... going to be around anymore? (Willow and Tara looking concerned)

BUFFY: Uh ... I don't know, Dawn. Not, not for a while.
She's still maintaining her distance from Spike, which is a necessity after his role in her depression arc. Spike was an enabler for her self-destructive behavior. He represented Death, which is what Buffy is now not even desiring.
In a continuation of Buffy's attempts to repair her damaged relationships, she visits Xander to try to smooth over the ordeal of
Entropy
.
BUFFY: You have no idea how hard it is just being here.

XANDER: You could have told me.

BUFFY: You didn't want to know.

XANDER: So you went to him instead?

BUFFY: Xander, what I do with my personal life is none of your business.
Oftentimes, it's easier to discuss one's depression with friends
after
you're on the road to recovery. During, everything is too immediate and intense. Buffy is able to talk about it in retrospect, however. Xander's also able to
accept
it in retrospect. As Buffy tells Xander, he didn't want to know. We saw in
Tabula Rasa
that Xander was determined to keep seeing the good in Buffy's resurrection, even after finding out that she'd been in heaven. It's not until this point in the season that he's willing to accept what Buffy went through.
The bathroom scene between Buffy and Spike is much more about the two characters outside the depression arc than anything else. It's noteworthy in that it's Death, again, attempting to force itself back into Buffy's life. Outside of that, though, it's not especially relevant to this meta.
For the rest of the episode, Buffy succeeds in getting two of the three nerds arrested. After the milestone of
Normal Again
, Buffy is able to effectively take out her depression. Nifty.
However, Warren, in a fit of anger, shoots Buffy. Of course, a stray bullet hits Tara.
Buffy will end the season the way she began: with death. We'll talk a lot more about her being shot in the next installation of the meta, as well as touching on how it connects up to the Dark Willow arc.
For now, let's look at the confluence of events. Buffy is shot by the last remnant of her depression just after Death attacks her. This is Buffy not surrendering anymore, and yet she's still being attacked on all sides. She's attempting to rectify her actions in drifting apart from her friends and isolating herself. She's also trying to make amends for ignoring Dawn. This is where we leave off for this time.
Next up:
Villains
,
Two to Go
, and
Grave
Buffy Came Back Wrong: Bargaining and Afterlife
Buffy Came Back Wrong: Flooded and Life Serial
Buffy Came Back Wrong: All the Way and Once More, With Feeling
Buffy Came Back Wrong: Tabula Rasa and Smashed
Buffy Came Back Wrong: Wrecked, Gone, and Doublemeat Palace
Buffy Came Back Wrong: Dead Things and Older and Far Away
Buffy Came Back Wrong: As You Were and Hell's Bells
Buffy Came Back Wrong: Normal Again, Entropy, and Seeing Red
Buffy Came Back Wrong: Villains, Two to Go, and Grave
All Entries
No clue what this is?
---