Go ahead and check out the
tag
to get the low-down on the previous two seasons.
Again,
peasant_
's help was greatly appreciated (and helped me catch a number of oopsies).
If you see anything that looks wonky, let me know in comments. Except Buffy's scene count in
Faith, Hope, and Trick
. Yes, folks, I have double, triple, and quadruple-checked that one, and Buffy does, indeed, have
that
much screentime.
This season has a sticky double episode, plus an AU episode, that requires some more elaboration in the methodology section. Then we'll move onto the graphs (the best part!). As with S2, I'm providing the raw numbers in TXT format. Then some interesting facts I've picked out. :)
In fact, you'll find that this is largely a cut and paste job from what I posted for S1 and S2. Scroll to the end of the section to get to the new stuff.
Methodology:
The method used for this project came about as a result of the intended goal: to compare characters' screentime and line count to see what trends arise throughout the seasons.
The characters involved include all characters who ever had a spot in the opening credit plus Faith. This means that characters who guest star before or after their regular stint still have their lines counted.
I used the transcripts and shooting scripts available on
BuffyWorld
.
For the line counts:
I first manually went through each transcript, tallying down both the number of lines, total, and the number of lines for each characters. Given that relative numbers are more important than actual numbers, I needed to be able to figure out what
percentage
of lines each character had in an episode. For this, I needed the total number of lines, even those spoken by incidental characters. The percentage is then simply calculated relative to the amount of lines in the episode (This includes lines by minor characters who are
not
under assessment).
All numbers were double-checked by opening the transcript in Notepad++ and doing an automated count of the number of times "CHARACTERNAME:" shows up. The manual read-through was necessary to catch any transcription errors or off formatting, while the automated check, obviously, checked
my
numbers.
For the scene counts:
Counting scenes was slightly more complicated. I ended up using the shooting script when possible. Each new INT or EXT shot counted as a new scene,
except
establishing shots (stock footage). Also, if the screenwriter labeled a scene as "CONTINUOUS", I didn't count it as a new scene. For scenes that are interrupted by an act break, I counted it as continuous so long as there's no significant time gap. Given that the important factor was figuring out a character's number of scenes relative to each episode (as opposed to comparing total number of scenes on an episode-by-episode basis), I decided that this method, while not perfect, would give satisfactory data.
In some cases in S1, a final shooting script was not available (only a writer's draft). In those cases, I attempted to use the transcript to gather the same information.
In all cases, I made sure to check with the transcript to ensure that I wasn't counting any deleted scenes (or missing any scenes that had been added in). At times, it was necessary to check screenshots to see whether a character was shown in a scene or not.
For the references:
I was able to keep track of the references while doing the line counts. The idea behind this count is to see which characters are often discussed by
other
characters. This would suggest that the character under discussion is of importance to the plot and to the show.
For a discussion to count, it had to take place while the subject character is not in the scene (or the characters discussing him/her are not aware of his/her presence). My general rule of thumb is that there needed to be three consecutive lines back-and-forth
about
the other character. Discussions among non-major characters also counted. If a discussion of a character stops and then begins again after a topic change, it's counted as two references. This is the only count that consisted of raw numbers rather than percentages, for obvious reasons.
Though I did track references for S1, I'm waiting until all seasons are completed to crunch those numbers and graph them because this aspect is more relevant in a comparative sense.
Drawbacks:
Using transcripts necessarily means being dependent on the transcribers' formatting. They may divide up a character's line by inserting an action descriptor, for instance. This would be counted as two lines for the character rather than one. Also, there's no way to differentiate between short lines and long monologues. As such, this should only serve as a rough guide, and further counts with different methodologies (especially ones incorporating actual time) will be useful.
S3:
As with S2, characters in dreams
are
counted. So Angel's early appearances in Buffy's dream, plus the
Amends
dreams. Also, flashbacks are counted, as well (this means that Angel's flashbacks in
Amends
count towards his character). With vamp!Willow in
Doppelgangland
, I oped to go ahead and count her as Willow. She presents an AU alternative of the character, so, seeing as I counted the Wishverse characters in
The Wish
, it seemed consistent to count vamp!Willow in
Doppelgangland
, as well. However, for the scenes that had both her
and
Willow, it was only tallied as one scene.
Additionally, for the mind-reading in
Earshot
, all thoughts are counted as lines.
Click here for TXT file
If you total up all the lines for the season, it looks like this when divided by character:
And finally, the scene and line counts throughout the season. Clicking on these pictures will take you to a larger version.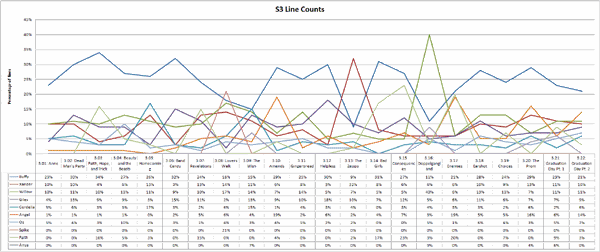 - As I did in S1 and S2, I took a look to see which characters spoke more in the scenes they were in. This was done by simply dividing a character's total lines spoken by the number of scenes they had been in. Results as follows:
Buffy: 2096 lines in 436 scenes. 4.81 lines per scene.
Xander: 811 lines in 214 scenes. 3.79 lines per scene.
Willow: 990 lines in 249 scenes. 3.98 lines per scene.
Giles: 751 lines in 179 scenes. 4.20 lines per scene.
Cordelia: 392 lines in 130 scenes. 3.02 lines per scene.
Angel: 480 lines in 134 scenes. 3.58 lines per scene.
Oz: 270 lines in 141 scenes. 1.91 lines per scene.
Spike: 89 lines in 16 scenes. 5.56 lines per scene.
Faith: 443 lines in 127 scenes. 3.49 lines per scene.
Anya: 78 lines in 30 scenes. 2.60 lines per scene.
Also, let me steal a bit from
local_max
. He broke down S2's line counts in order to identify which episodes were significant and centric for each character (
right here
). So here: if a character had 10% or more of the lines in an episode, it was "significant" for that character. If they had 20% or more lines, it was "centric". Let's see how this computes for this season. :)
Buffy-centric: Everything except
Lovers Walk
,
The Wish
,
The Zeppo
, and
Doppelgangland
.
Buffy-significant: Everything except
The Zeppo
Xander-centric:
The Zeppo
Xander-significant:
Anne
,
Dead Man's Party
,
Homecoming
,
Revelations
,
Lovers Walk
,
The Wish
,
Earshot
,
The Prom
,
Graduation Day Pt. 1 & 2
Willow-centric:
Doppelgangland
Willow-significant:
Anne
,
Dead Man's Party
,
Faith, Hope, and Trick
,
Beauty and the Beasts
,
Homecoming
,
Revelations
,
Lovers Walk
,
The Wish
,
Gingerbread
,
Earshot
,
Choices
,
Graduation Day Pt. 1 & 2
Giles-centric: None
Giles-significant:
Dead Man's Party
,
Band Candy
,
Revelations
,
The Wish
,
Gingerbread
,
Helpless
,
The Zeppo
,
Consequences
,
Earshot
Cordelia-centric: None
Cordelia-significant:
Homecoming
,
The Wish
Angel-centric: None
Angel-significant:
Amends
,
Enemies
,
The Prom
,
Graduation Day Pt. 2
Oz-centric: None
Oz-significant:
Beauty and the Beasts
Spike-centric:
Lovers Walk
Faith-centric:
Consequences
,
Enemies
Faith-significant:
Faith, Hope, and Trick
,
Revelations
,
Bad Girls
Anya-centric: None
Anya-significant: None
Whew! Now some downtime before I get started back up on these numbers. Only four more seasons to go! *bounces*
And I've completed the numbers for S3! Oodles of numbers fun!
---